Busy, busy, busy
29 November 2011 at 5:09 am
It's been a while since I've posted an update on what I'm doing these days so it's time to catch up a bit. I've been really busy the last year and now I finally have some time to post on it. Here's some of my favorite projects the past year.
Sukker.no
Sukker is the largest dating site in Norway and it's used by more or less every single person below 50 that I know. I were originally hired to solve a problem that others had given up - making a 22 Gigapixel image zoomable and interactive. At any time of the day, this app will show the online status for many thousand users, offering new ways to explore and connect to people. Making an app like this run on old machines was quite a fun task! You can check out the city yourself but you'll have to be logged in to see who is behind each blinking dot.

I also made two more apps for Sukker and they both allow their users to utilize more than just pictures to show others who you are. One is an "Apartment configurator" where you can create a kind of fantasy apartment allowing others to see what taste you have in music, film, food and much more. You can even peek into the fridge! The other app is sort of a "powerpoint"-app that allows people to build stories based on slides, images, video and text.
RIM / Playbook
I can't say much about this project, but I've been allowed to say that "I have been working on a first party application for RIM". I can also say that it was great to work with my friends at Jadehopper!
Minegunner
The only breaks from commercial projects have been working on a Tower Defense game called MineGunner. The paying gigshave enabled me to take time off to work on this. There's still work to be done on it though so I'll spend my time from now and a little into January trying to get it finished and published. (Come to think of it - I don't think I ever posted a link to my old sparetime project - the Rampgenerator?)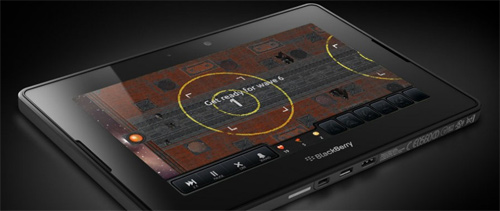 Rock City
This has certainly been the most fun project ever! I've used multitouch, low level audio manipulation (with Tonfall), peer to peer apps (with Cocoon p2p), controlling lights and LED's, webcams, motorized faders as well as literally bags of Phidgets! I'll write up a separate post on this soon since it was simply too much fun to fit in just a few paragraphs.