What did I do the last year
I just delivered yet another Away3D project for a longtime client of mine - dna shoes. It's a nice competition for Converse shoes that use MMS and email to build a nice 3D gallery (based on one of my workshop files). I've done lot's of Flash 3D this year and it's actually become my main income the last 12 months.
For many years, I've used Blinksale for my billing purposes. It's a very basic service, but it does have one neat feature and that's tagging. By selecting invoices by tags, I can easily see what I spent my time on and Flash 3D is a BIG part of it. This chart shows what kind of projects I've billed the last 12 months: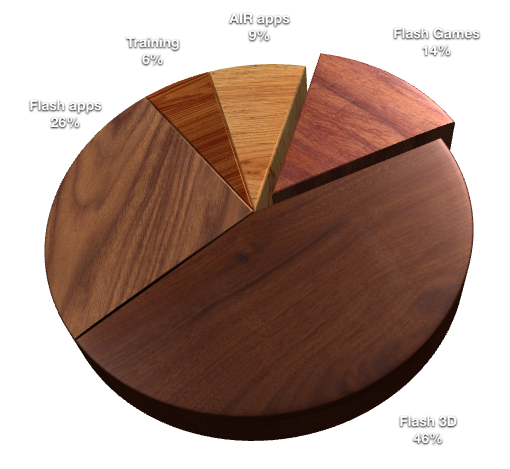 This is just my commercial work and in addition I've also done many personal projects. Most of these include Away3D in some way so if anyone ever wondered if it's possible to make money from Open Source Flash - here's another little bit of proof. Thanks to the entire Away3D team for filling my days (and nights) with fun!
PS: The 6% training is also Away3D! :-D