3D printing with Color!
08 September 2012 at 2:43 pm
After having a 3D printer for some months I've realized that it's so much cooler to use plastic with the "right" color, rather than just printing in black and white. If you are printing with ABS plastic, the selection is somewhat limited and your best choice is shopping Makerbot (27 colors) or Diamond Age (22 colors). However - if you're printing with PLA plastic - you're in luck! There's a massive selection of great suppliers and you can also have translucent colors with varying finish. I've gone totally overboard in buying different PLA filament samples. At the moment, I have no less than 47 different colors!
I've found it really hard to find the right color for my projects. Many of these colors have fancy sounding names that make it harder. Another thing is that some suppliers take filament pictures in a dark room with a crappy camera, while others use high quality cameras and experiment with the lighting to bring out the colors. What I've really wanted is a single picture showing colors from multiple vendors in different lighting settings so that I can see how much reflection there is in Bling Bling Gold and how translucent the Amber Red really is. To help others wondering about the same, I figured that I'll make a simple guide by sorting the colors that I have and photographing them all in the same lighting conditions.
Below you can find pictures of all my filament samples photographed outdoors in sunlight. You can then compare that with the list below that shows the name of the colors and their supplier. As you can see from the list, my favorite suppliers are Faberdashery (offering 35 colors) and Diamond Age (offering 23 colors). Faberdashery is the shop that I would recommend to beginners as they ship by the meter! The minimum order is 5 meters, but being able to order by the meter makes me prefer from Faberdashery over Diamond Age. I can't really order a roll of 100 meters just to test a color to see if it works for a project, so it would be great if all PLA vendors realized this and offered "Sample Pack's" with 5-10 meters of each color that they stock (hint, hint…) If they did, I would probably buy more from them.
Click any of the images to go to Flickr for the high-resolution version (5000 pixels+).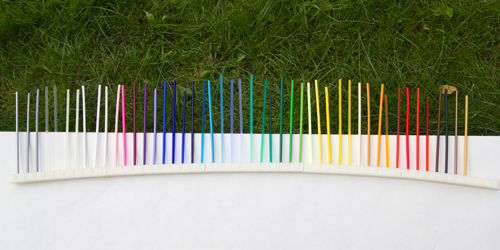 Note how the translucent colors change from white to the darker background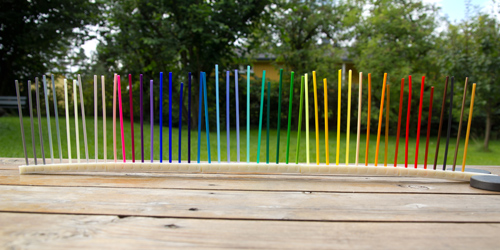 Notice how the translucency does not show really well here?

List of colors (use the number on the white base as reference):
Robot Silver(Faberdashery)
Silver (Ultimaker)
Earl Grey (Faberdashery)
Crystal Clear (Faberdashery)
Translucent Natural (Filamentprint)
Glowbug Yellow (Faberdashery)
Glow-in-the-dark (Diamond Age Solutions)
Flexible White (Ultimaker)
White (Ultimaker)
Pearly White (Faberdashery)
Cherry Blossom Pink (Faberdashery)
Punk Star Pink (Faberdashery)
Solid Purple (Filamentprint)
Princely Purple (Faberdashery)
Lilac Pearl (Diamond Age Solutions)
Lapis Blue (Faberdashery)
Blue Translucent (Ultimaker)
Sapphire (Diamond Age Solutions)
Galaxy Blue (Faberdashery)
Translucent Blue (Filamentprint)
Electric Blue (Faberdashery)
Solid Blue (Filamentprint) *
Glacial Blue (Faberdashery)
Blue Translucent (Ultimachine)
Translucent Green (Filamentprint)
Jade Green (Faberdashery)
Emerald (Diamond Age Solutions)
Greenery Green (Faberdashery)
Village Green (Faberdashery)
Green (Ultimaker) ***
Cyber Yellow (Faberdashery)
Mellow Yellow (Faberdashery)
Yellow (Ultimaker)
Solid Yellow (Filamentprint)
Translucent Yellow (Filamentprint)
Buttercream (Faberdashery)
Orange (Ultimachine)
Squeezed Orange (Faberdashery)
Amber (Diamond Age Solutions)
Transclucent Red (Filamentprint)
Fire Truck Red (Faberdashery)
Red (Ultimaker)
Ruby (Diamond Age Solutions)
Woodland Brown (Faberdashery)
Solid Black (Filamentprint)
Bronze / Gold (Ultimaker)
Bling Bling Gold (Faberdashery)
* = is indeed translucent and not solid?
If you have any idea on how to make this more useful to others (or other feedback), plese leave a message below. If you're a PLA vendor that want to send me some samples to include in a future follow-up post, email me at jenschr [at) gmail <dot> com. And yeah - next time I'll use a raft when printing the holders 😉