Flashy Halloween!
01 November 2005 at 2:43 am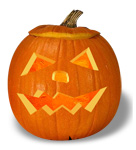 Today is Halloween. In case you didn't dress up and visit the neighbours, here's a treat for you: a very well done Interactive Pumpkin-thing.
I ran out of candy early this year. Seems there's more and more kids every year. Halloween is an american tradition but kids everywhere grab the opportunity to get some extra candy - also in Norway where I live 😊
Just saw JD linking to this story at CNN. While I do understand President Hugo Chavez's concern, I must say that I feel that almost any excuse is a good one when it comes to candy (My fav movie this year by far).