Testing Van Life
30 September 2020 at 4:49 pm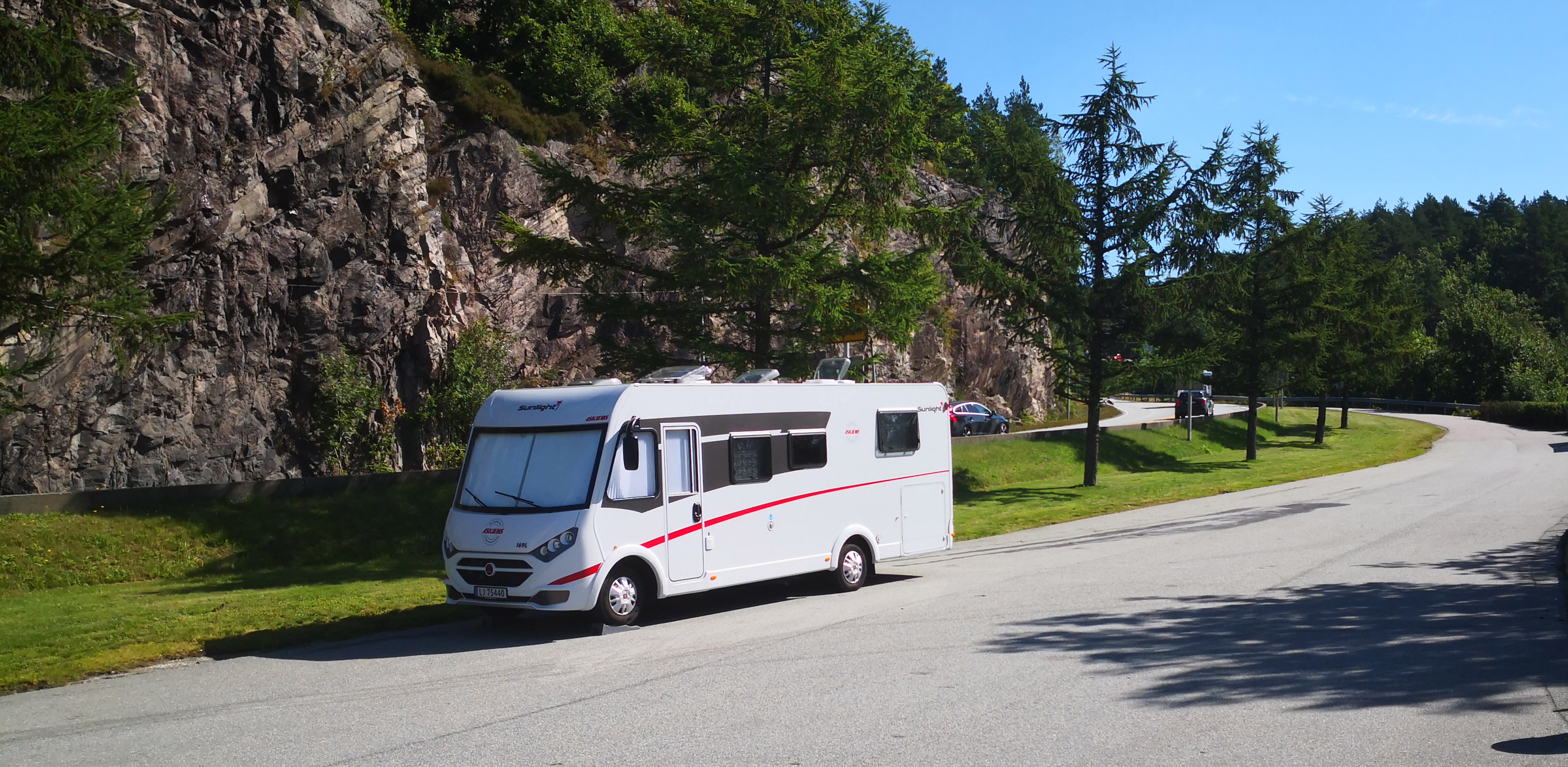 ​The last year I've been watching way too many VanLife videos on YouTube and the idea of getting a van for going on trips have been growing for some time. This summer, I sold the whole family on renting a motorhome, so we could test if we liked it. Turns out it was a pretty fun two weeks!
Our initial plan was to go to Scotland and rent an RV there, but due to Covid, that obviously wasn't possible. I rented the van from a company in Tønsberg, a one hour drive from Oslo since rental prices in Oslo went bananas when Covid happened. This firm was one that we'd been driving past on our way to the annual summer trip to Sandefjord, so I knew it was a solid firm. Renting from Askjems was completely painless and I'd totally recommend them. Our plan was however not to test and RV to buy it. It was more to see if we liked it so we maybe could do a DIY van build.
RV's are wide and feel unsolid
The RV was a Sunlight I69, based on a 150 hk Fiat Ducato. Sitting inside it really pointed out how much this was like putting a motor on a camper. It's quite large with a body that is 2,3m wide and 7.4m long (7.5 x 25 ft). The height is also a bit more than the 3m (10ft) it officially says, but I'll get to that later. Despite the size, the Fiat Ducato is easy to handle and I got use to it fairly quickly. What took some time to get used to was all the noise. The whole thing feels flimsy? At every turn, the plastic walls will make creaking sounds and it really feels like a caravan with an engine (without any engine sound proofing). We had to blast the stereo at max volume to hear music if driving on a highway. This was really tiresome, so we saved the stereo for smaller roads where the cabin noise was lower.
I've driven several small trucks and cargo vans, but this really is a somewhat massive thing. We first realised that when driving into a tunnel at the same time as a truck. Turns out that two such big cars will actually push all the air forward since the cars displace them? We almost crashed as the air tried to escape between the two cars. Parking a 7.5 meter long car also came with certain difficulties.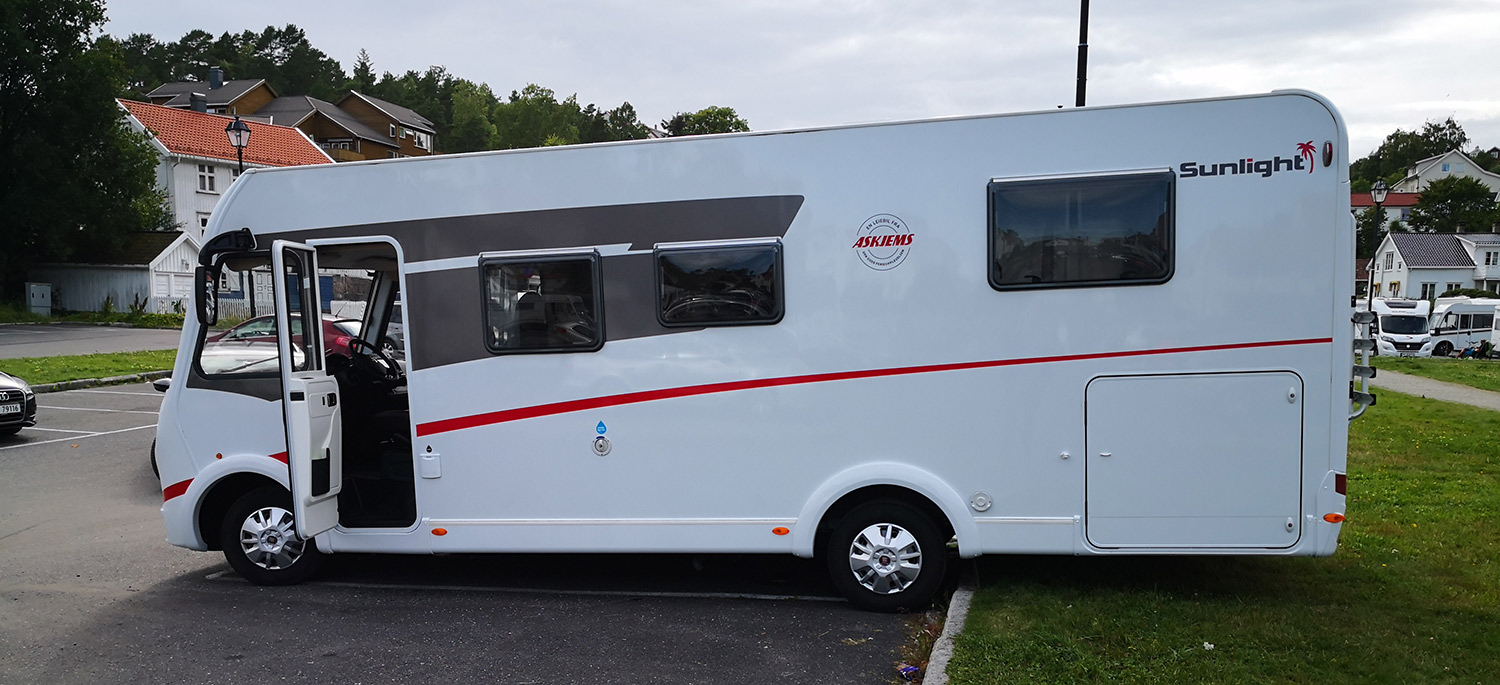 It's not impossible to park at a public parking spot, but having a car longer than 6 meters will severely reduce the possibilities you have. You can of course stick the back out across a lawn like this, but that won't work in all places. Some cities might even fine you for this.
We also had some parts basically just fall off like this plastic piece that supports the pull-down bed in the front of the car. In general, things like this really added to the feeling that these cars are not too solid. The part had obviously fallen off before and it was not for load - just for sideways support.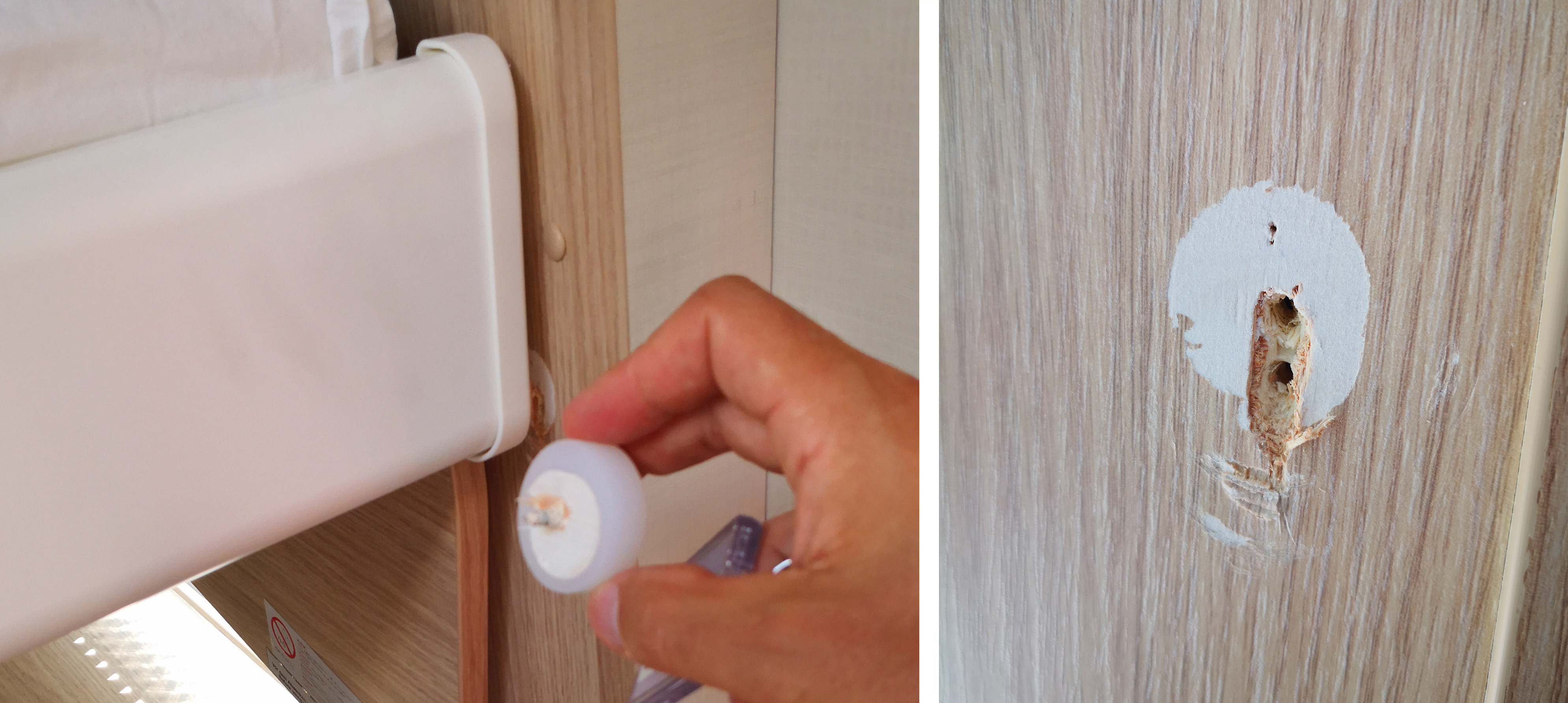 This was our first lessons learned:
We really didn't want to have such a wide car
We really didn't want such a long car
We wanted to be able to listen to music while driving
Commercial RV's are not too solid
Size matters!
At 7.5m length, the car had accommodation for 5 people. Two in a private bedroom in the back + two kids in an overhead pull-down bunk and one (almost full size) bed that required converting the dinette through a series of odd puzzles. With smaller kids, you could just put both in the bunk. With our kids being 18 & 15 yrs, they really didn't want to share a bed. No problem, but much more fuzz packing the beds up/down + synchronising getting up in the morning and going to bed.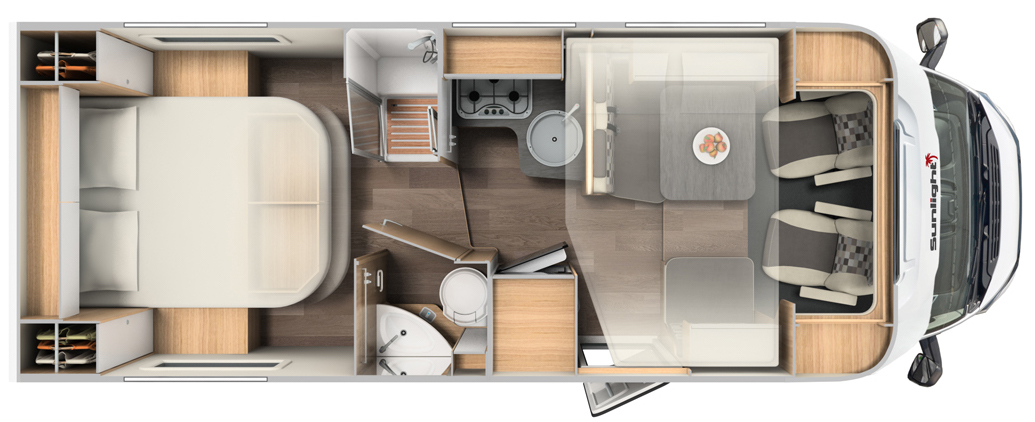 In between the front and back sleeping areas, there is a small kitchen and a tiny bathroom. The kitchen has two burners and a sink on one side and a fridge on the other side of the hallway. This was compact, but did the trick nicely.
The bathroom was basically just a toilet + a tiny sink. The toilet had a sliding hatch that you had to open before use. This held smells into the tank & worked well. You did however have to empty the tank at regular intervals. This was no pleasure, but there seems to be facilities for this on maybe 20% of Norwegian petrol stations - or at least all the larger one along highways. Due to the dirty job, we tried to use the toilet as little as possible but it was incredibly convenient to have a "private throne" as public restrooms can in all kinds.
The van also had a shower, but we preferred visiting some place that had a proper shower. Instead, we used this area as storage as that was needed. I do understand the desire to have a shower if you live in a van full time.
Size also became an important factor in the only accident we had with the van. As we drove into a parking lot, I missed the sign that said that the parking garage was only 3m (10ft) high. The sign was of the kind that is made to bend - so as I drove under it - there was a scraping sound. Turns out the van was just a little taller than I had anticipated and since it was hard to get the sign to bend backwards, I just had to keep driving despite this scratching the car top even more. In the end, this cost me $500 in repairs of the scratched hatches so it could have gone so much worse.
Lessons learned:
If you live in a van - you all really need to go to bed at the same and get up at the same time.

Having a lid above the sink and burners is convenient since this gives you more space when the lids are closed.

Having a toilet is most useful at night - when it's raining and you really don't want to get fully dressed to just relive yourself. Otherwise, you'll find other ways to solve that.
There's a lot of places that an RV won't get under…
You'll need more storage than you think
For the van to be liveable, you'll have to take your shoes off as you enter. This means - you'll need a place to put those shoes and it should be right next to the door. Jackets and other garments for cold/rainy weather is also a must when living in Norway. In general - things need to have a place to go - just as you have at home. Overall, the van had a lot of storage, but jackets were floating everywhere.
Lessons learned:
Shoes need to have their own place - maybe also with a vent?
Having rotating front seats is really convenient
We might get a van?
We've not decided anything yet, but this really felt like something we would like to do more of! We had such nice evenings playing cards in the RV, hiking mountains during daytime, seeing new places every day or staying longer if we wanted. A great feeling of freedom!
Our trip was just after the main, national holiday in Norway and that meant that we found nice places to sleep almost every night. The two times we didn't find something, it happened since we didn't plan well. It was convenient to just stop along the road, but it was also somewhat noisy to wake up to. Finding good places to spend the night is obviously something you'll get better at with time.
I think the main takeaway was that it's difficult to plan for 4 (almost) adults, so if we build our own van - we'll size it for 2 persons. We'd size it for 3-4 day trips, so that it's perfect for weekend hikes but also could work for a week if you refill water and such during the trip. Due to zoning rules changing for our neighbourhood, we won't be able to apply for building a new garage until March 2021, so we'll likely wait until we have a place to work on a van.